LEGO Super Mario 71411 The Mighty Bowser boasts an impressive design that's almost worth the high price tag
While LEGO Super Mario 71411 The Mighty Bowser has exceptional detail and interactive possibilities, does the high price tag ultimately let it down?
Various LEGO reviewers have had time to engage with the set and have shared their opinions online. Both Super Mario fans and newbies to the theme were impressed with the level of detail from the set – only made possible by the sheer size of the brick-built sculpture.
Standing 32cm high, 41cm wide and 28cm deep, 71411 isn't just a display set, however. He offers the possibility of a boss fight with LEGO Mario, as well as interactive opportunities with the rest of the LEGO Super Mario range. Despite dwarfing most of the other sets, he would fit in well alongside 71374 Nintendo Entertainment System or 71395 Super Mario 64 Question Mark Block.
Here's a look at what each reviewer had to say in more detail – and what they ultimately decided on the value of the set.
– Set details –
Theme: LEGO Super Mario Set name: 71411 The Mighty Bowser Release: October 1, 2022
Price: £229.99 / $269.99 / €269.99 Pieces: 2,087 Minifigures: 0
Behold an impressively faithful design
Something virtually every reviewer and Super Mario fan can agree on is the level of detail seen in the set.
"Few video game characters are as immediately recognisable as Bowser, placing considerable expectation on this model. Fortunately, the popular King Koopa looks absolutely stunning!" writes Brickset. "This figure most closely resembles the villain's design from 2007 onwards, combining rounded facial features with his ever-present spiked shell and horns."
"Bowser looks amazing," agrees LEGO YouTuber Tiago Catarino simply. "His brightly-coloured skin, brought to life with relatively common LEGO colours, is spot on."
The YouTuber goes on to note that there are a lot of recoloured elements, which is great for LEGO piece collectors. Tiago was especially impressed with the shape of the shell and of the face, using recently-created parts to create unusual shapes that you don't often see in LEGO sets.
Bowser can even move around realistically
It's not just from afar that 71411 The Mighty Bowser looks good. When you get up close and move him around, he arguably gets more impressive.
"This whole build was designed to be a puppet of sorts," explained Tiago. "You grab him from the back and move him around, and since the legs aren't locked in place, they move in a realistic way." Later, the YouTuber does note that Bowser is quite large and heavy, so probably can't be picked up by kids.
Fellow LEGO reviewer The Brothers Brick was similarly blown away by the level of possibility and detailed movement from the sculpture.
"The range of motion on Bowser's head is just as impressive as the rest of the model," writes The Brothers Brick. "The only downside is that, while his head can be rested at any point within this radius, his mouth does not stay open. It returns to the closed position. So no posing with a perpetual roar."
Don't underestimate the size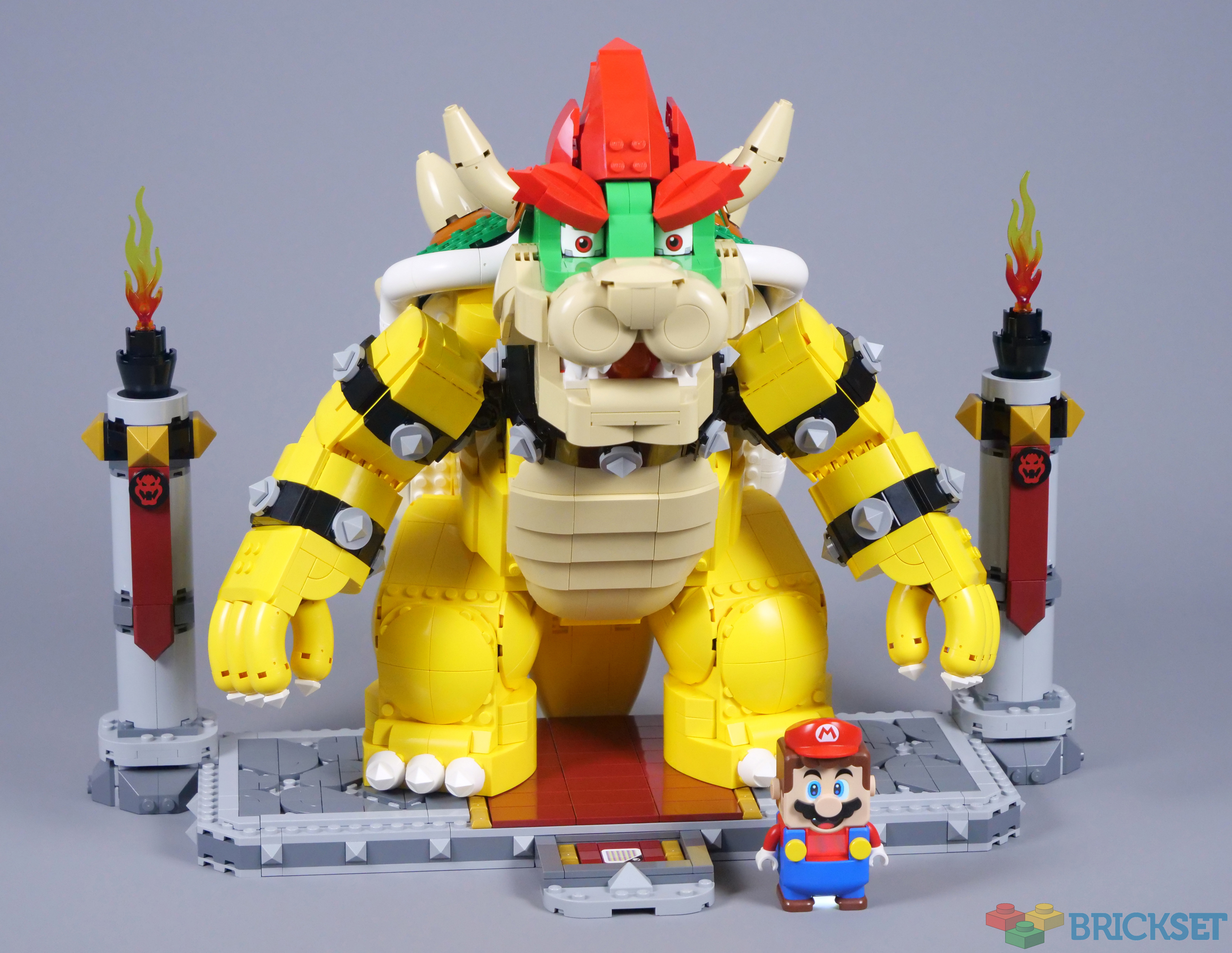 "The Mighty Bowser is nothing short of mighty indeed, but let's say he's also huge, shall we?" said Tiago Catarino in the opening of his video. The image from Brickset above gives a sense of his sheer size and weight.
However, his size is a plus point for Brickset, who notes that the 'mightiness' of Bowser makes him easy to play with.
"Equally remarkable is Bowser's bulky structure, as the figure is extremely dense in its construction," wrote the site. "The whole model therefore feels very tactile."
Plus, the massive size of the build is what made all the joyful details possible.
"It's King Bowser through and through, recognizable from a mile away. I really can't imagine how the designers could've done a better job," explained The Brothers Brick. "Literally from head to toe, he is picture-perfect and packed with fun features."
'More than just a big Bowser figure'
Still, the LEGO Group intended 71411 The Mighty Bowser to do much more than simply stand there and look good. Nonetheless, it took Tiago a short while to realise just what made this set special.
"To me, The Mighty Bowser only felt like a big sculpture – definitely more interesting than the Black Panther set as big sculptures go – but still," said Tiago. "Over time, it started growing on me as I realised it had a bit more to it than just being a big Bowser figure."
The LEGO YouTuber goes on to say that realising there were also play features made the set seem a lot more worth the money. Brickset also agreed that the play possibilities are a great way to integrate this set with the rest of the theme.
"Tiles for the electronic Mario, Luigi and Princess Peach figures to scan appear throughout the Super Mario range, sometimes in unexpected places," described Brickset. "This model is no exception, as one such tile is hidden in a drawer beneath Bowser! Moreover, toppling one of the columns reveals a blue POW box in its base."
But even with all that, is the price worth it?
"Unfortunately, the price of £229.99, $269.99 or €269.99 feels rather expensive," writes Brickset. "I think the display stand could have been excluded, had the price been reduced accordingly. Nevertheless, this model of Bowser is definitely among the best Super Mario sets released to date.
Tiago agreed that the stand could have been excluded – in fact, all three of these reviewers found that first part of the building process to be tedious – but still thinks the price is justifiable.
"I still think it's worth [the price]", said Tiago. "I'm happy to pay the price on a LEGO product that proved to be, once again, similar to the previous direct-to-consumer LEGO Super Mario sets: entertaining, fresh, and completely out of the ordinary."
Similarly, Brothers Brick thought it was good value, writing: "The beauty of this model knocked me off my feet and I had a blast. Regardless of being a fan of Super Mario, I think anyone could appreciate it. Plus, for a licensed set, the price really isn't crazy."
— Summary —
Overall, all three reviewers agree that 71411 The Mighty Bowser is an impeccably well-made set, complete with impressive play possibilities and realistic movements. The only downside for some of them is the high price tag. At £229.99 / $269.99 / €269.99, it's hardly cheap. The reviewers are ultimately divided, with some believing the many fun and engaging traits are worth the cost. At the end of the day, it's up to you whether you think the cost is worth it, but for any Super Mario fan, it seems like it would be a safe bet to go to for an impressive display and play set.
Support the work that Brick Fanatics does by buying your LEGO Super Mario sets using our affiliate links. Thank you!