Looking back at the modern Classic Space LEGO sets
The announcement of 10497 Galaxy Explorer is the latest in a long line of LEGO neo-Classic Space products.
While the LEGO Group has produced many different LEGO sets in outer space, the Classic Space aesthetic seems to hold pride of place in our collective imagination. The primary colours and monochrome space suits have given it a certain timeless aesthetic – or at least one that's aged better than its successors.
As such, the LEGO Group has released new Classic Space sets over the last few years – or to be more accurate, ones that pay tribute to its design choices. 10497 Galaxy Explorer is one of these sets, reimagining 497 Galaxy Explorer with new design techniques and better play features. We've decided to take the chance to look back at similar efforts from the LEGO Group that came before it.
Since the original Classic Space theme ended in 1987, we're going to be looking at everything Classic Space that came out after it.
4243694: Blue Spaceman Key Chain
This appears to the first clear reference to Classic Space following that era's close, released in 2004. It lacks the blue hands of the original space suit, but it still retains the charm of that time period. A review of the key chain suggests it came with an opaque visor (reflecting later LEGO space releases) although it's unclear if it was actually included at the time.
Vintage Minifigure Collection Volume 1–4
These were released across 2008 and 2009, allowing LEGO fans to acquire minifigures from LEGO's past. A different colour of Classic Space minifigure can be found in each set, although they replace the original style of helmet with a modern iteration. This is presumably because the chinstrap on the original design was notoriously prone to breaking – something The LEGO Movie would later reference.
5974 Galactic Enforcer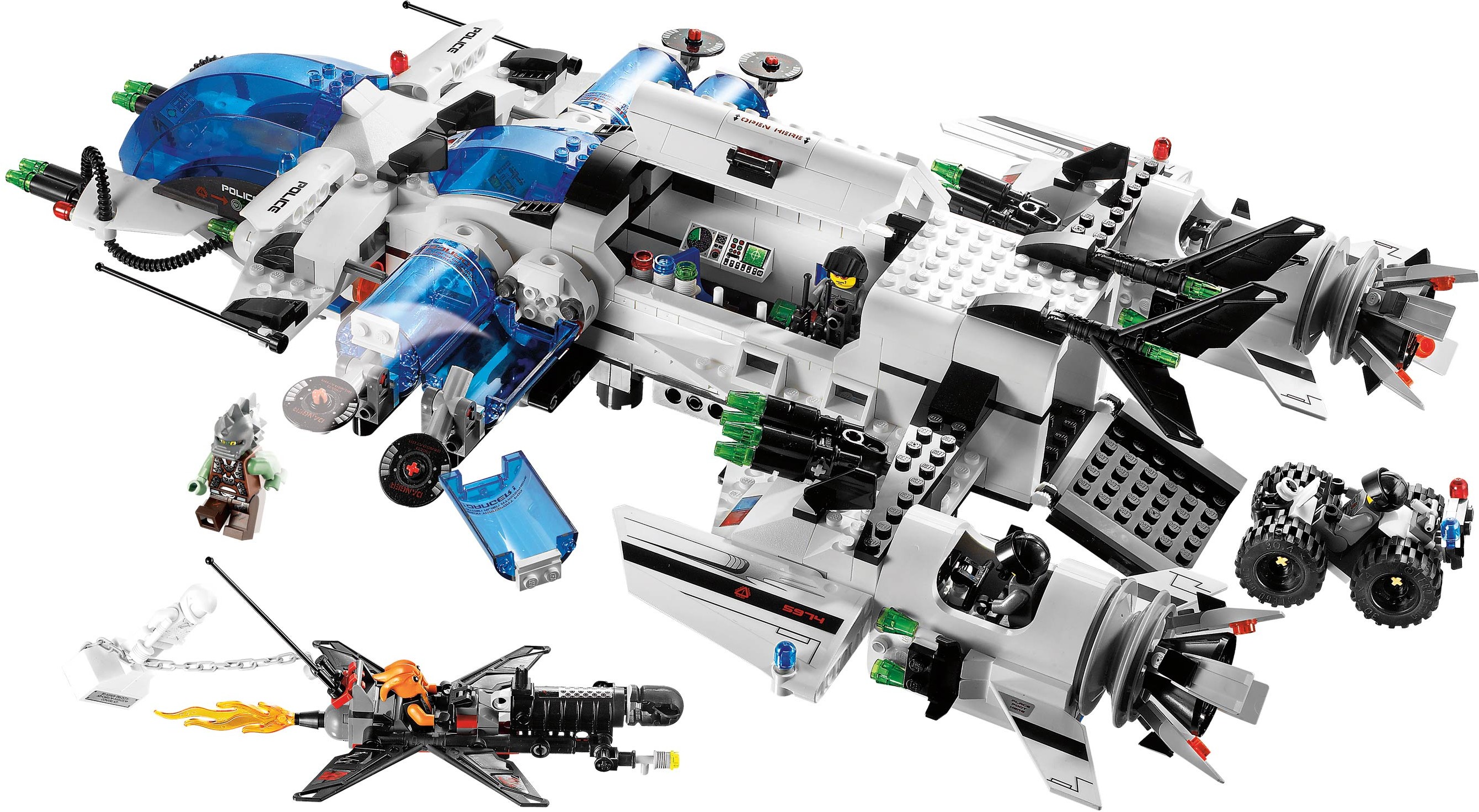 This late entry in the 2009 Space Police theme includes a Classic Space statue, albeit with a modern helmet. The accessory its holding is era-appropriate, however.
852815: White Spaceman Key Chain
This 2010 key chain features a white Classic Space suit and another modern helmet. It also includes an air tank neck piece; this may have been absent from the last key chain so a LEGO logo could be printed (and seen) on the back.
Spaceman Magnets
These appeared in 2010 and 2011, and let you show off your LEGO fandom on your fridge or other magnetic surface. The white astronaut was given away as a promotional item, while the black one was available at Toys R Us with LEGO purchases of $20 or more.
850423: Minifigure Presentation Boxes
This set appeared in 2012 and offered a tasteful way to display your minifigures. A single blue Classic Space minifigure could be found here, albeit with modern eyes this time.
More Minifigure Collections
These minifigure collections were available from US Toys R Us branches in 2012. They're largely similar to the earlier versions, although there's no Classic Space representation in the third one this time around.
10245 Santa's Workshop
This 2014 Winter Village set makes a passing reference to Classic Space in one of its toys. Look for the familiar blue, grey and yellow aesthetic in the toy on the machine's conveyor belt.
21109 Exo Suit
This is a little better: a set with more than just minifigures. Released in 2014 for the LEGO Ideas line, 21109 Exo Suit is more of a 'what if' scenario than a direct tribute. Its retrofuturistic design immediately sets it apart from other Classic Space sets, and its green Classic Space uniforms (which are new to the styling) are also very welcome.
70810 Metalbeard's Sea Cow
This steampunk pirate ship was the largest set in the LEGO Movie theme (released in 2014) and is still one of the best LEGO pirate ships ever assembled. While the ship itself is the star, it was also the first LEGO set to include a Benny minifigure. Benny features a weathered Classic Space logo, a new, pre-cracked helmet mould and a head with dual expressions: one happy, one mimicking the original, generic minifigure face of older Classic Space characters.
70816 Benny's Spaceship, Spaceship, SPACESHIP!
Appearing at the climax of The LEGO Movie, this is a lavish take on the Classic Space aesthetic. It's packed with play features including a cockpit, an engine room, various projectile launchers and a pair of detachable, smaller ships. Uni-Kitty and Wyldstyle also receive Classic Space suits, and Classic Space enthusiast Benny makes another (at the time) rare appearance in a physical LEGO product.
5002812: Classic Spaceman Minifigure
This 2014 set features a white Classic Space astronaut and a retro-styled robot from that era. A booklet included with the set tracks the evolution of LEGO Space sets over the decades. Similar sets would be produced to honour the Castle and Pirates themes, although the latter set lacked classic styling in its set design.
5004282 The LEGO Movie Astro Kitty Key Light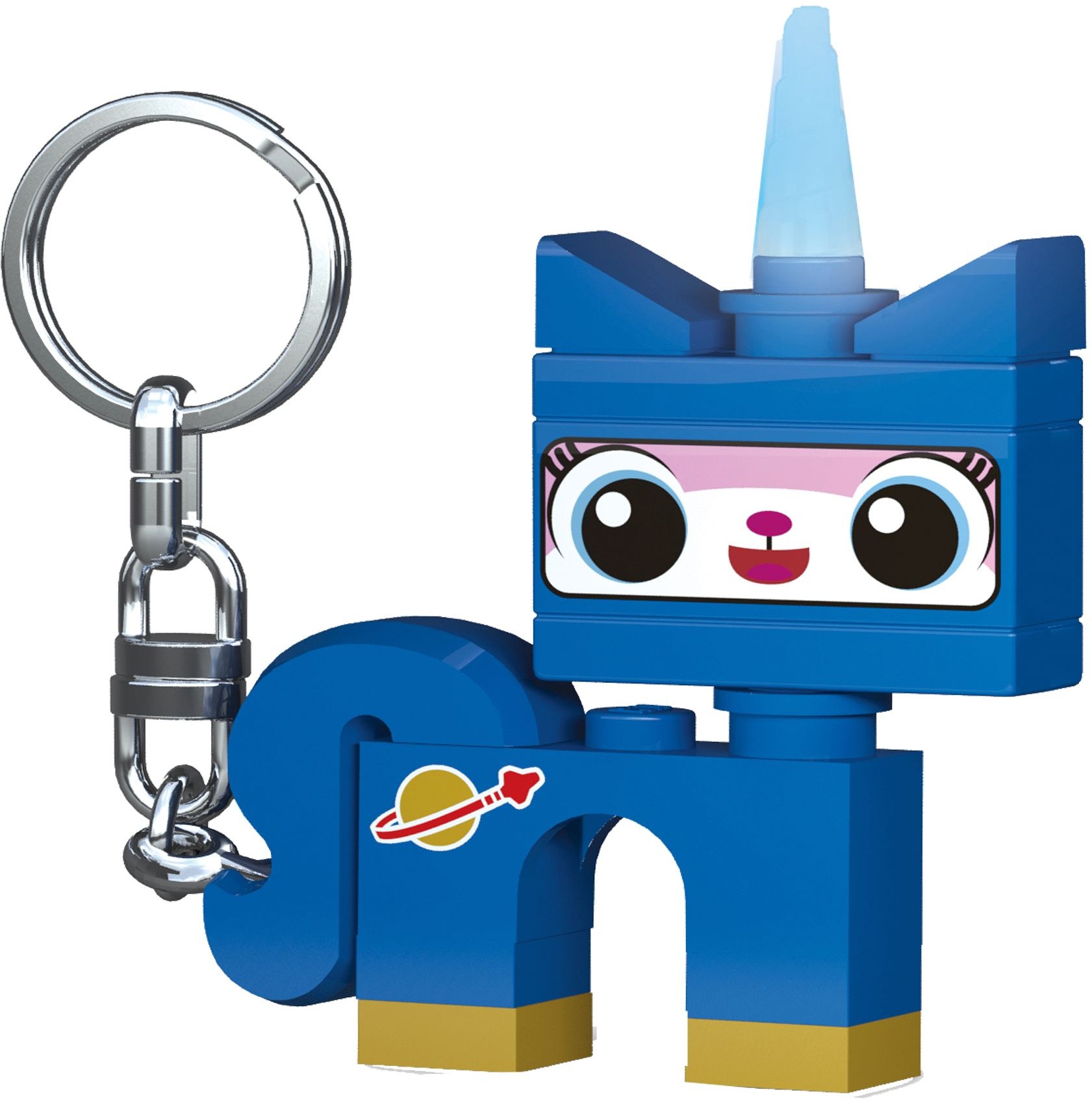 This accessory recreates LEGO Movie character Uni-Kitty in her space suit and should light your way on dark nights. It appears her horn is actually the part that illuminates, which seems rather on-brand for the character.
11910 Micro-Scale Space Cruiser
This 2015 set was included with the Great LEGO Sets book, published by Dorling Kindersley. Though small, the back of the ship can open up to deploy a tiny vehicle onto the lunar surface.
71214 Benny Fun Pack
This set appeared in 2015 as a companion to the LEGO Dimensions video game, and let you play as Benny in the game itself. A version of Benny's Spaceship was also unlocked with this set, and could be rebuilt to alter its abilities.
71018-13 Rocket Boy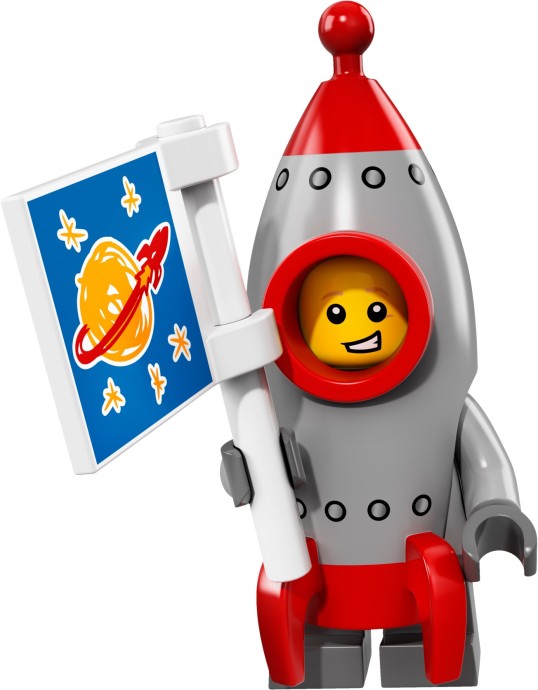 This 2017 Collectible Minifigure features an impressive rocket costume for a young
space fan. The torso underneath also features a Classic Space logo on a light grey minifigure torso, giving it increased value to older LEGO fans.
10404 Ocean's Bottom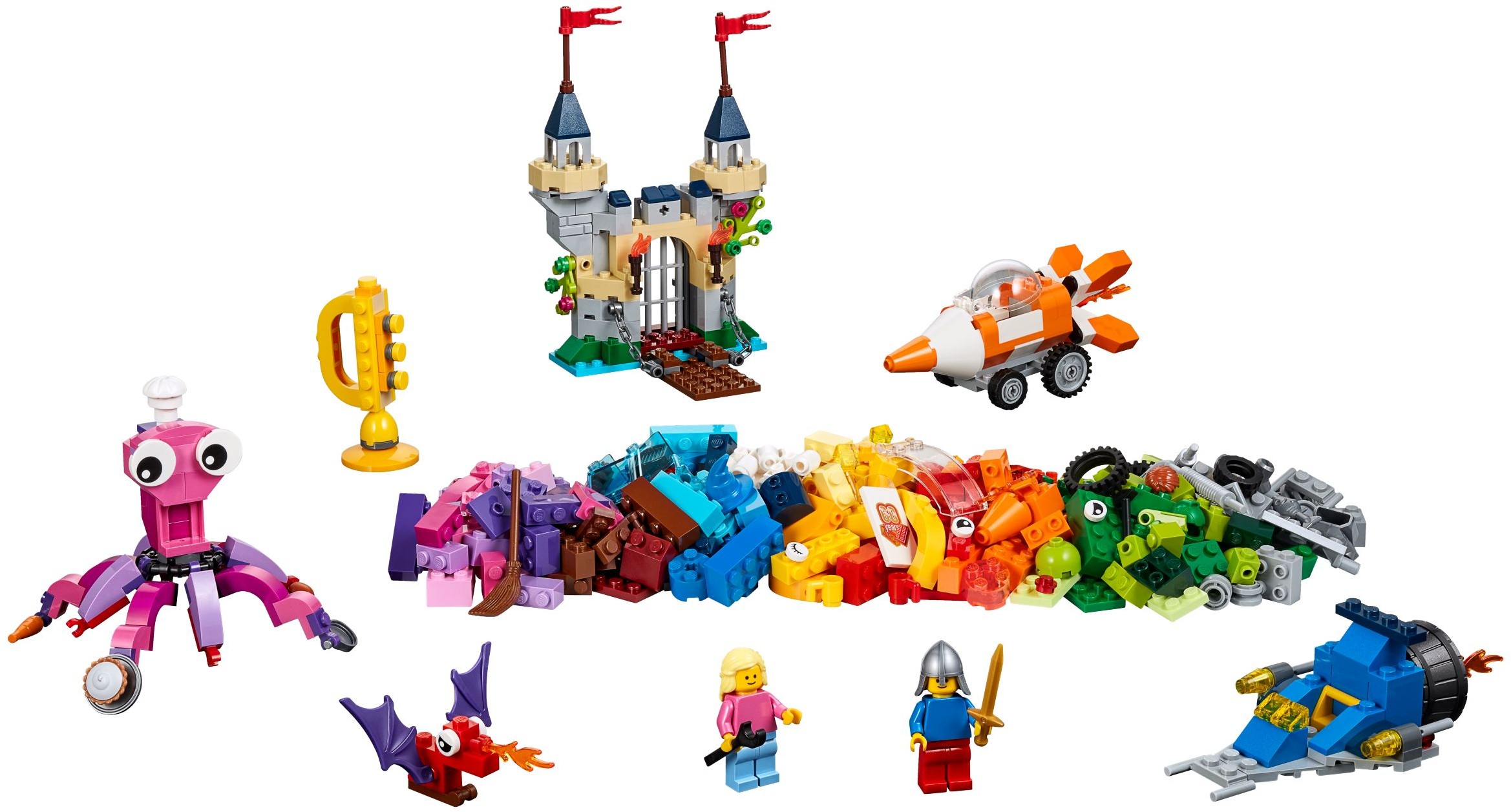 This set commemorated the 60th birthday of the LEGO brick. It allows you to build a Classic Space-era ship in 2018, albeit with a bit of creative licence.
40290 60 Years of the LEGO Brick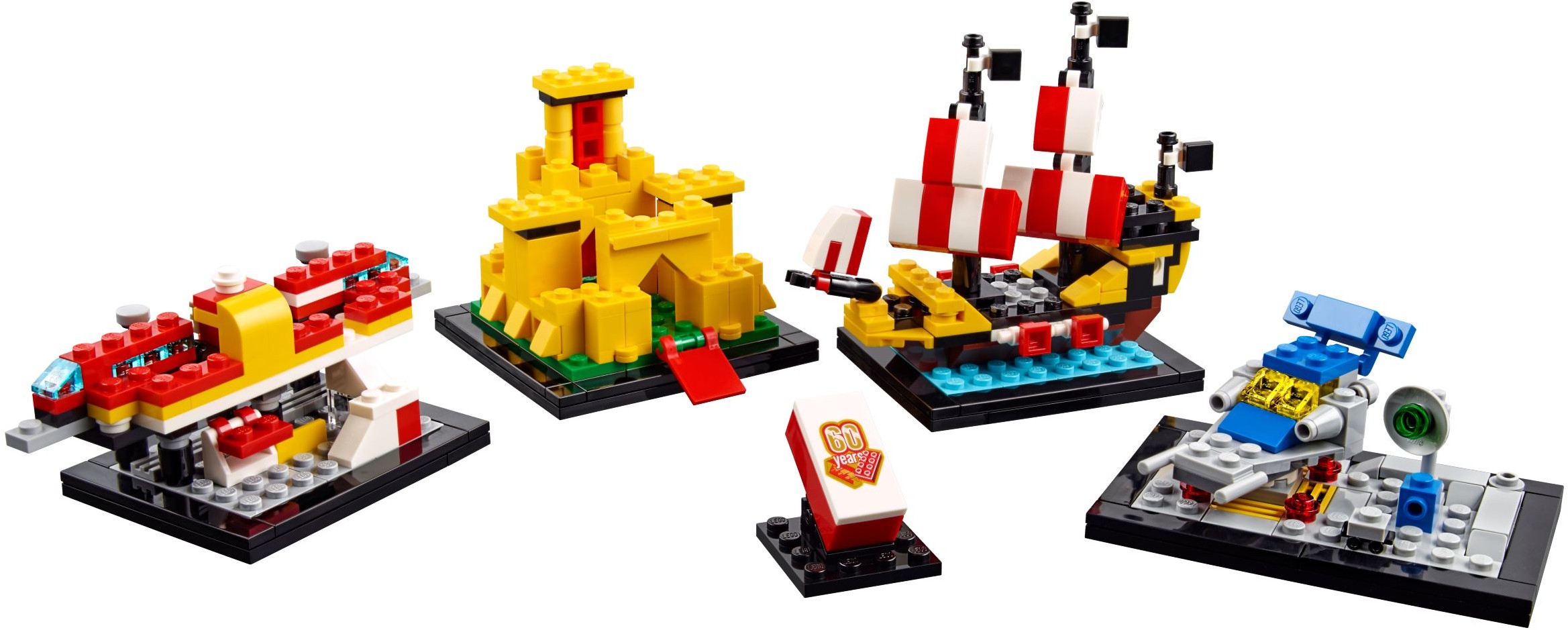 Another 2018 release, this model was released as a promotional item at LEGO.com. It appears to pay tribute to 497 Galaxy Explorer, also recreating some of the sub-builds surrounding it.
41636 Benny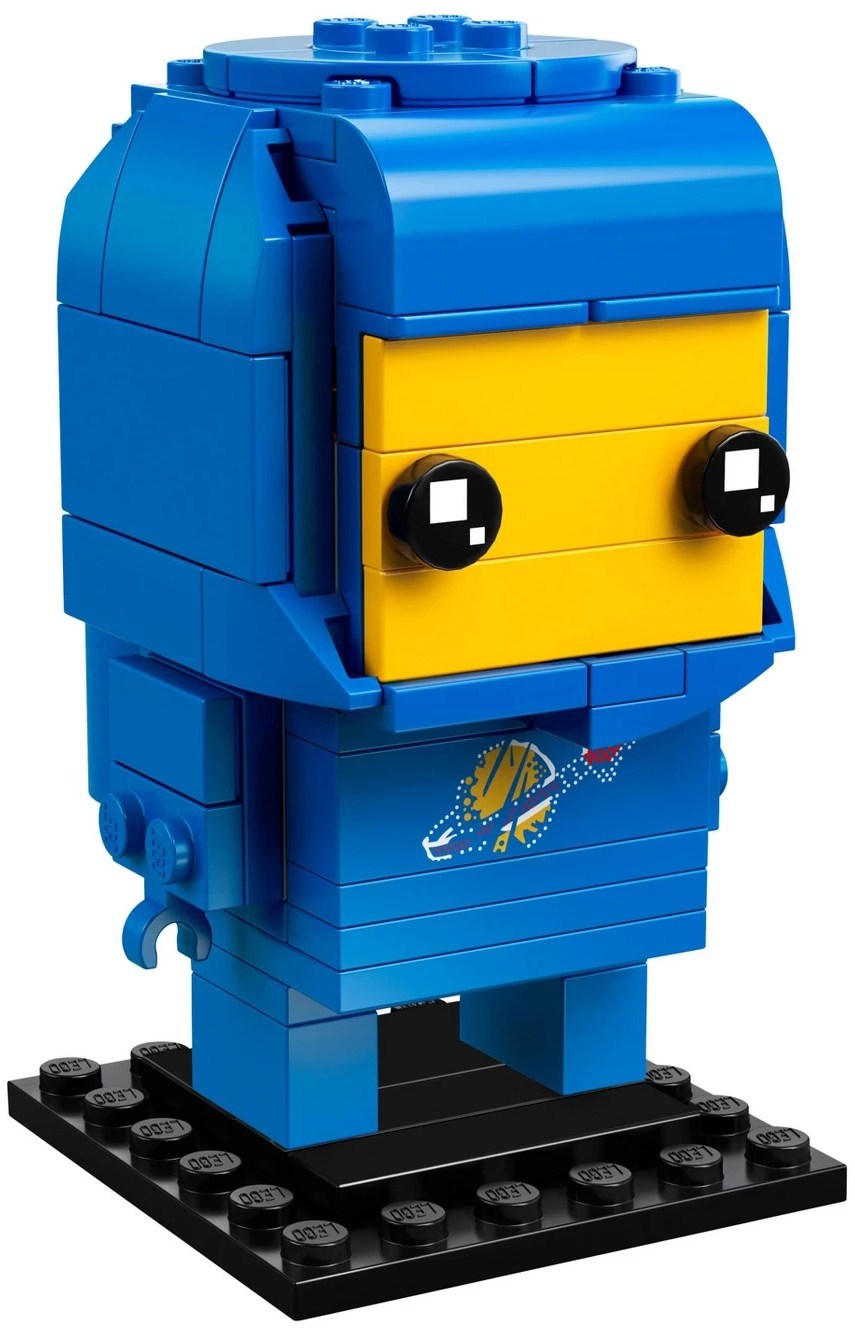 A 2019 entry in the Brickheadz line (and a tie-in for The LEGO Movie 2) 41636 Benny recreates the beloved astronaut in a slightly different form. Thankfully, his broken helmet survives the transition.
70821 Emmet and Benny's 'Build and Fix' Workshop!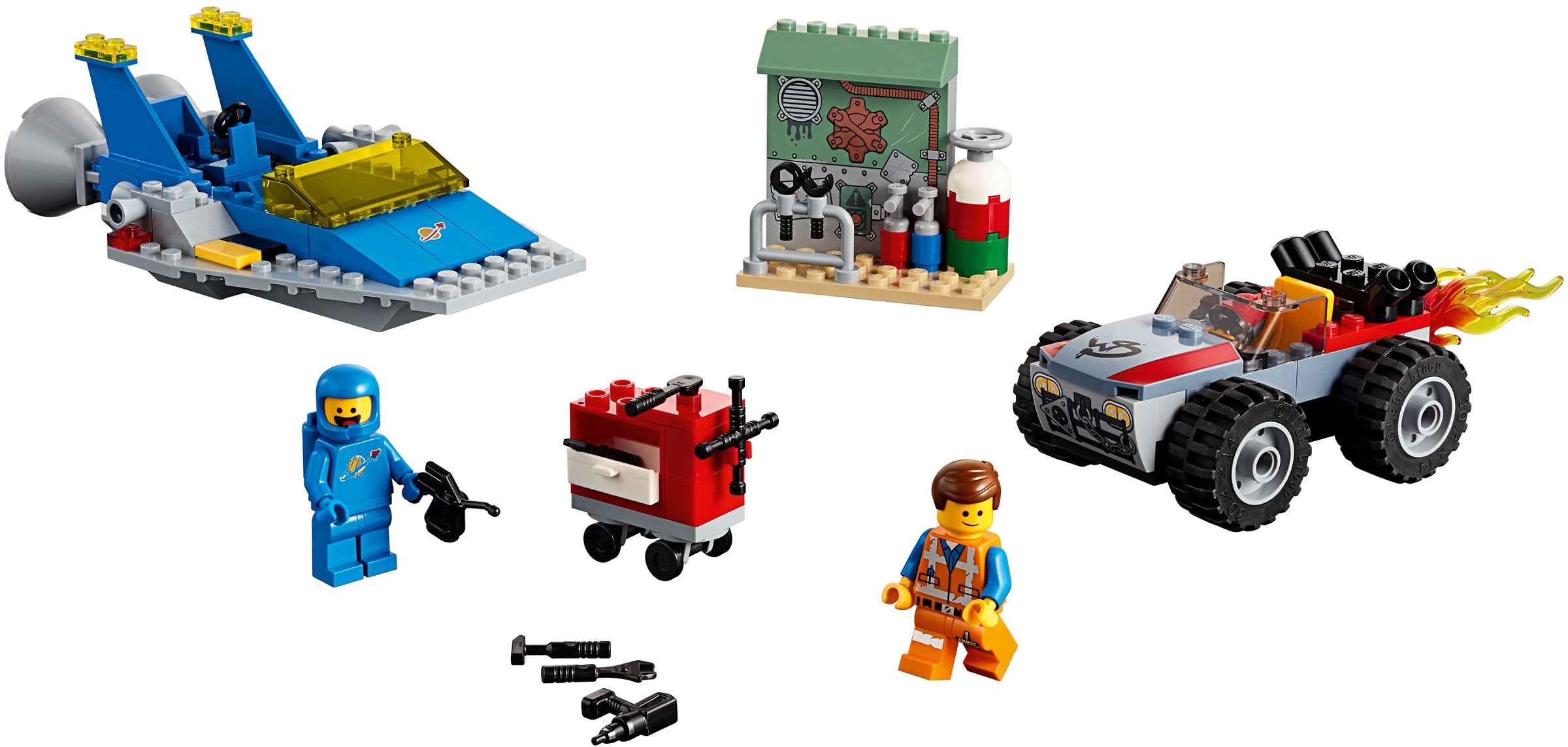 Benny returned in The LEGO Movie 2, which boasted more LEGO sets for the younger LEGO fan. This set is one such example, allowing you to build a simple Classic Space model.
70841 Benny's Space Squad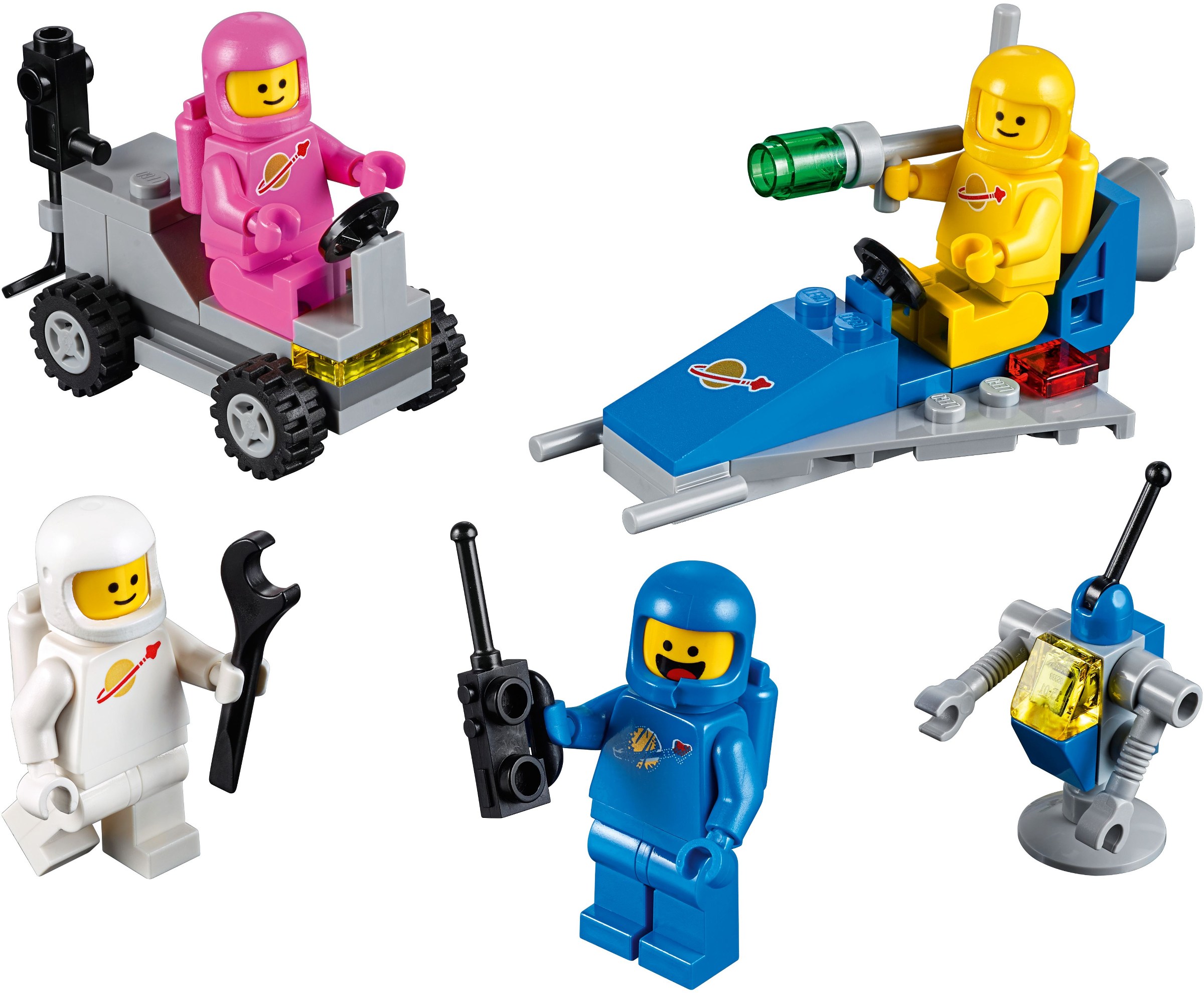 Benny actually appears across a few LEGO Movie 2 sets, but this one is of particular interest here. In addition to Benny three other Classic Space astronauts appear here, with their retro helmets returning. Some classically-styled vehicles and a robot can also be found in this set.
71027-6 Space Fan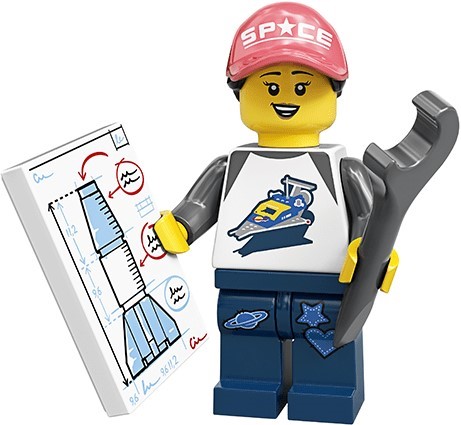 A potential relative of Benny, this space enthusiast comes with a rocket blueprint and a wrench to bring it to life. The torso also includes a Classic Space top, which would re-emerge in the 2022 set 40533 Cosmic Cardboard Adventures.
LEGO Minifigure: A Visual History
A 2020 release, this book takes a deep dive into the long history of the LEGO minifigure. As the cover makes blindingly obvious it also includes an exclusive orange Classic Space minifigure, which has yet to appear in another LEGO set.
5006468 Classic Space Logo Collectible Coin
This coin was available in 2021 within the VIP Rewards Centre, and could be acquired by redeeming VIP points. Four other classically-inspired LEGO coins were released in this manner, alongside a case to keep them in.
11021 90 Years of Play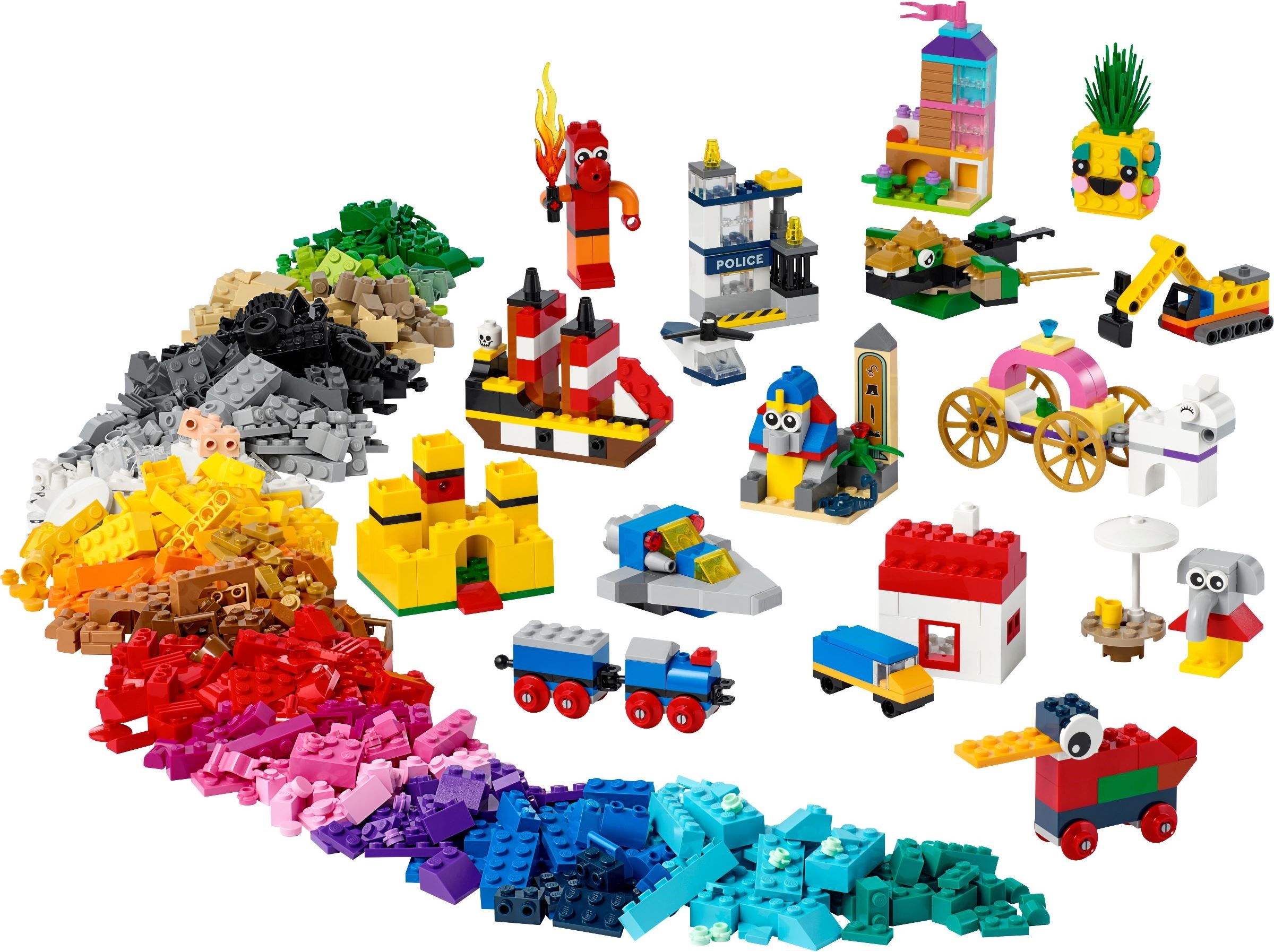 This 2022 Classic set was released for the LEGO Group's 90th birthday, and recreates several models from across its history. The Classic Space era naturally gets a look-in, although it may prove a little cruder than similarly scaled tributes.
40533 Cosmic Cardboard Adventures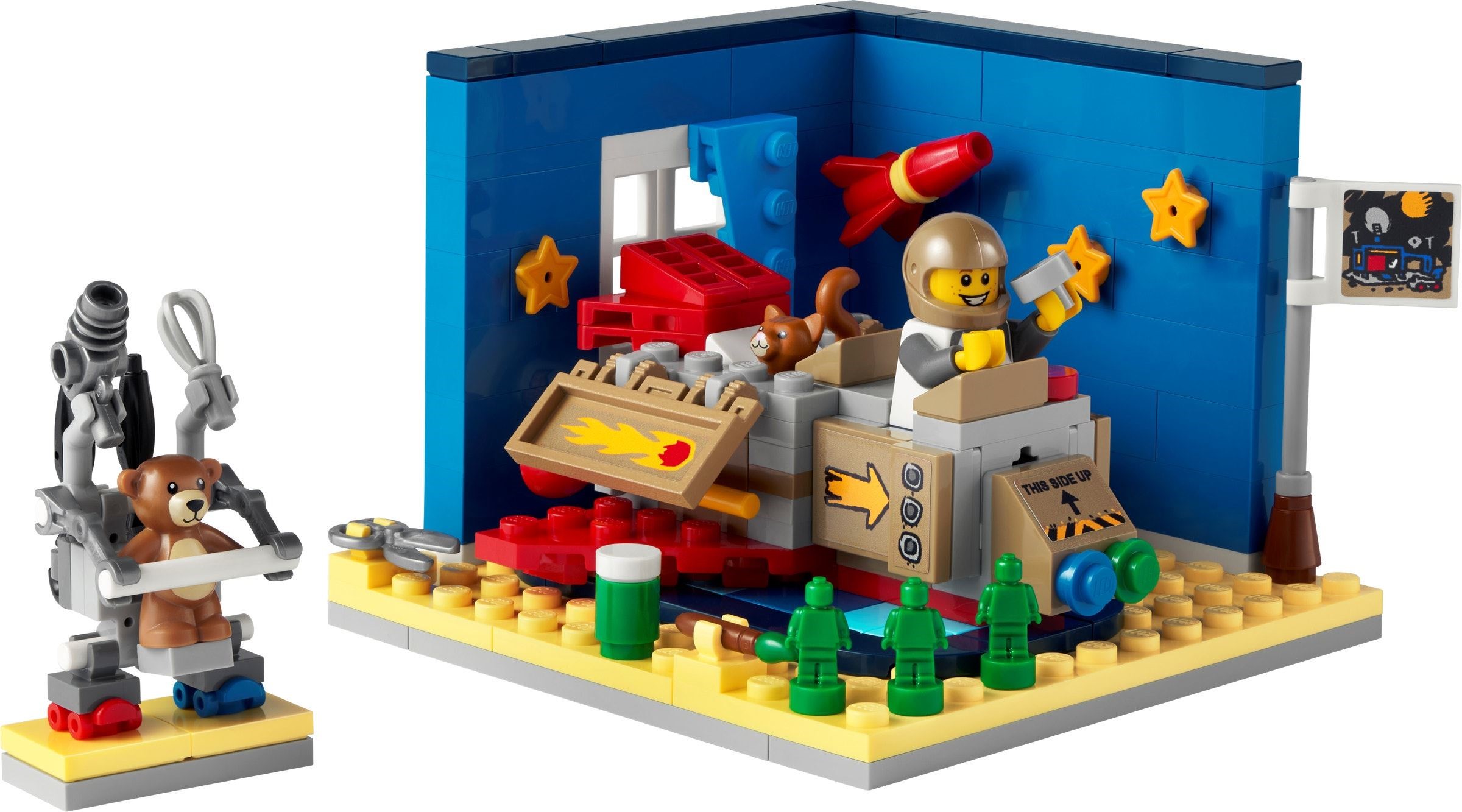 The outcome of a LEGO Ideas contest (and made available as a promotional item in early 2022) this model features a Classic Space reference on the child's torso. A classic Space scene can even be seen on the flag in the bedroom.
10497 Galaxy Explorer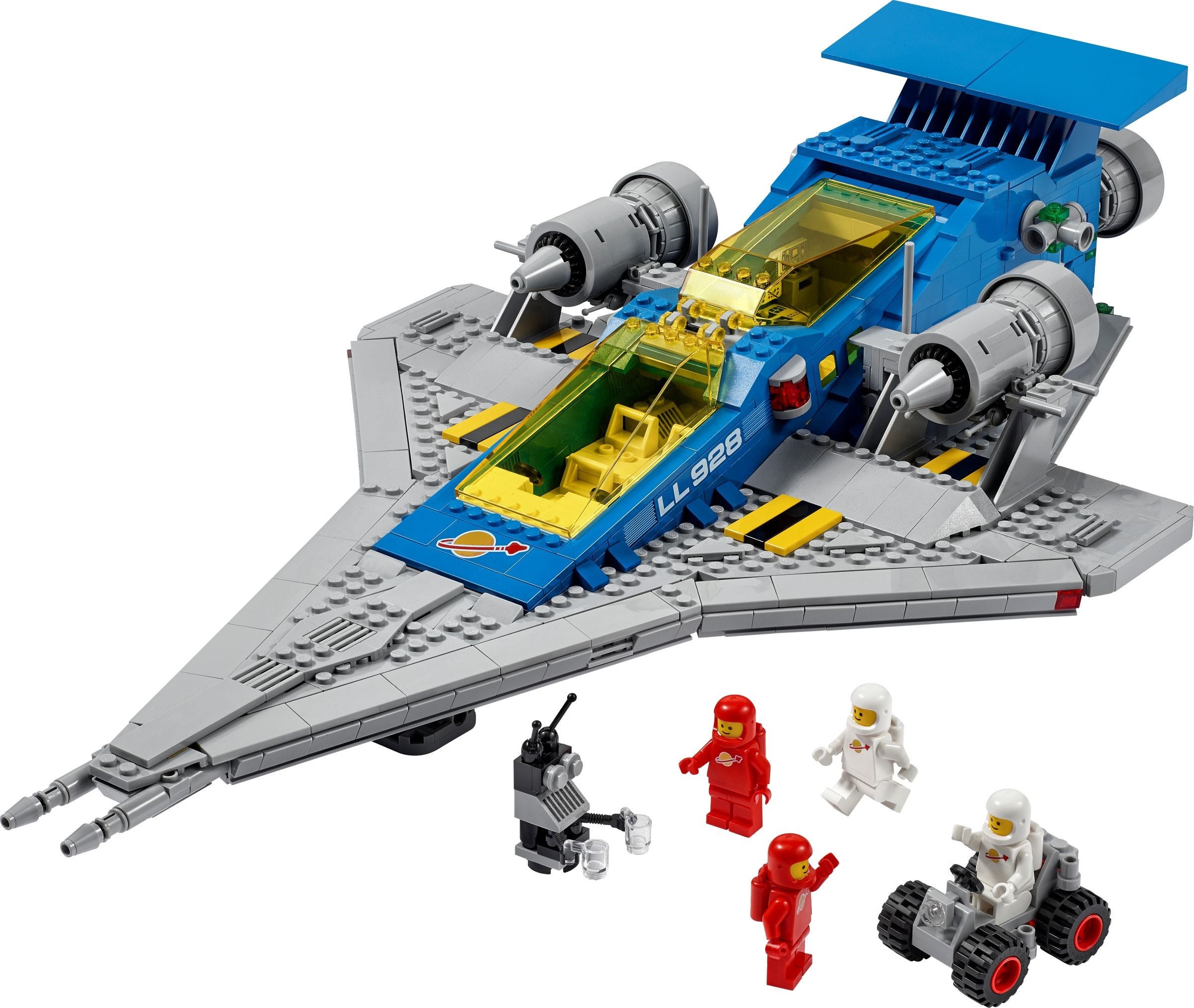 Another 90th birthday celebration, 10497 Galaxy Explorer pays tribute to 497 Galaxy Explorer. While it retains the characters of that set, it makes several revisions to the core design. You can check out our closer look at the set if you're looking to whet your appetite.
Support the work that Brick Fanatics does by purchasing your LEGO using our affiliate links.